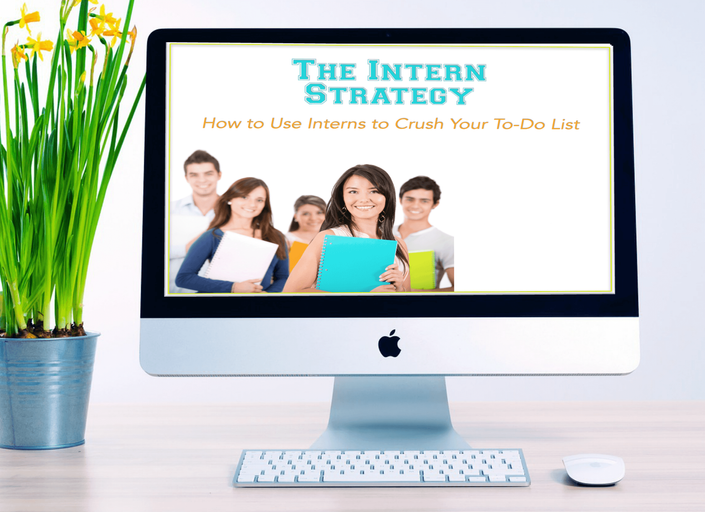 The Intern Strategy
How to Use Interns to Crush Your To-Do List (and save thousands in VA fees)
Are you trying to grow your business but are overwhelmed by your to-do list?
Let me show you how to get the help you need and eliminate the overwhelm without spending a penny.
If you were able to free up five hours per week, what would you do with the time?
Create the product you've been thinking about?
Work on improving your SEO to drive more traffic to your site?
Pitch more brands?
Spend more time with your family?
I remember being in the same situation, trying to figure out how to get out from under my to-do list of tasks I needed to do and focus on projects and tasks that would actually grow my blog.
I felt like I was spinning my wheels and I was overwhelmed. I just couldn't seem to get ahead. I knew I needed help if I was going to get ahead but I couldn't afford a virtual assistant (VA). Then it hit me. I could use interns to help me tackle my to-do list.
Prior to blogging, I worked at a large non-profit. As with most non-profits, budgets were tight, staffing was lean and the workload was never-ending. I was constantly buried in my to-do list, unable to grow because I was stuck doing tasks that didn't allow me to.
It was during that time that I began working with interns. These students were helping me keep up with the tasks I needed to do so that I had time to work on the projects I wanted to do. I knew I could use the same strategies I used in my corporate job to create a successful intern program for my blog business
Today, when I talk with other bloggers, they are always asking me how I started working with interns. Where did I find them? How do I manage them? What do I have them do?
That's why I created The Intern Strategy course.
I've compiled all of my strategies, processes and tips into a replicable system that YOU can implement for your business.
Start Working on Projects that Will Grow Your Business
Stop chasing your tail on those time-sucking tasks that having a direct impact on the growth of your business. You know what they are. Those daily tasks that we waste hours on every single day. Those mundane tasks that aren't making the best use of our experience or knowledge as business owners.
It's time to free up your time and outsource those tasks to someone else. I know what you're thinking. "But, I can't afford to hire someone." What if I could show you how you can get the help you need without spending a penny? A way that you can...
GENERATE MORE INCOME by creating that product you've been dreaming about launching.
SIGNIFICANTLY BOOST YOUR VALUE by creating amazing content that begs to be noticed.
IMPROVE YOUR BOTTOM LINE by pitching more brands.
Every semester I work with college interns to help me tackle the items on my to-do list so that I can focus on projects that will grow my business. And, it doesn't cost me a single cent. Seriously.
Hire interns? BRILLIANT!
But where the heck do I start?
This is one of the most common questions I get asked when people ask me about working with interns. Some business owners have even tried working with interns only to give up because it took too much time to recruit, hire, train and manage them.
Here's what happens when most businesses start working with interns…
Over the years, I've talked with hundreds of business owners about working with interns and the same problems keep coming up.Many of them that have worked with interns in the past have had the same problem.
They find that hiring, training and managing interns is a big undertaking.The loved the idea of extra help, but they gave up because it was just too much work to manage their team.
Here's why most businesses fail when working with interns.
Without a well defined, step-by-step strategy, most business owners get completely bogged down in the process of managing their interns.
They become overwhelmed by the process of recruiting and training new interns every semester.Not to mention the ongoing support that interns need to successfully complete their tasks.
Here's why this is crippling.
As a busy business owner with clients to impress, customers to satisfy and possibly even a day job on the side, you can't afford to waste your precious time.
Even though you could desperately use the extra help, the moment you get buried managing an intern, it's almost impossible to recover.
That's why implementing a well-thought out intern strategy is one of the things in your business that you NEED to master the first time.
That's why I created The Intern Strategy course.
I've put together a complete A-Z program that you can begin to implement immediately to successfully create your own intern program.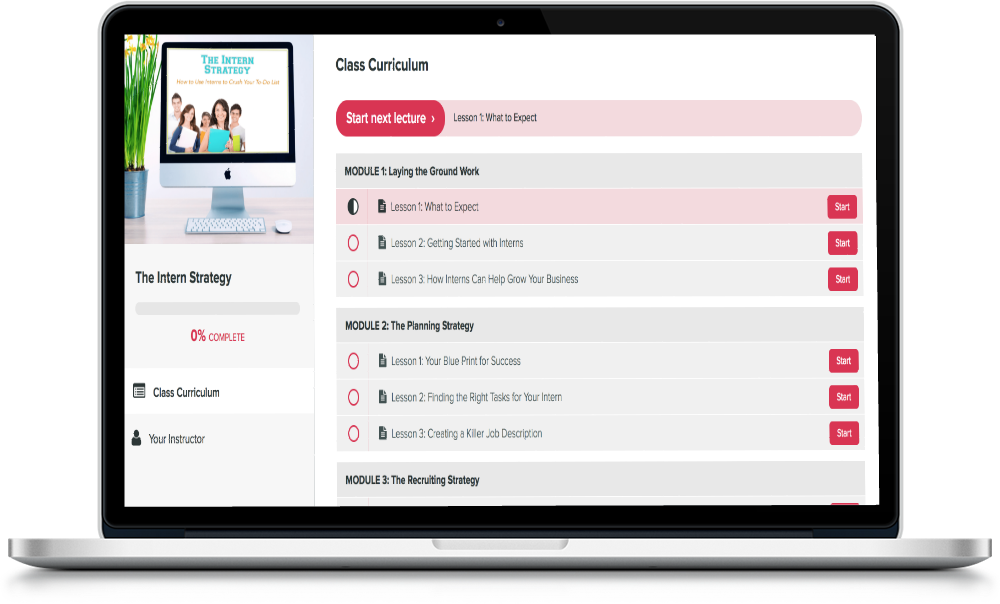 IT'S A GAME CHANGER!
The Intern Strategy is the ONLY program of its kind that…
FOCUSES ON THE CORE STRATEGIES you need to launch your own successful intern program.There's no fluff or unnecessary steps created to fill up the course.Just proven, actionable strategies that I use to manage my own intern program.


TEACHES YOU EVERYTHING YOU NEED TO KNOW to find, hire, train and manage the best, qualified interns efficiently and effectively so you're not wasting your precious time.


WALKS YOU THROUGH EVERY STEP of my proven strategy with worksheets, checklists and templates so you can hit the ground running.You get to peek behind the curtain at all of my processes and resources.There's no need to reinvent the wheel with this course.
In this course, I use the blogging industry as an example. However, this course is not just for bloggers. The strategy I teach, can be applied to many different industries and businesses - the concepts are universal.
What You'll Learn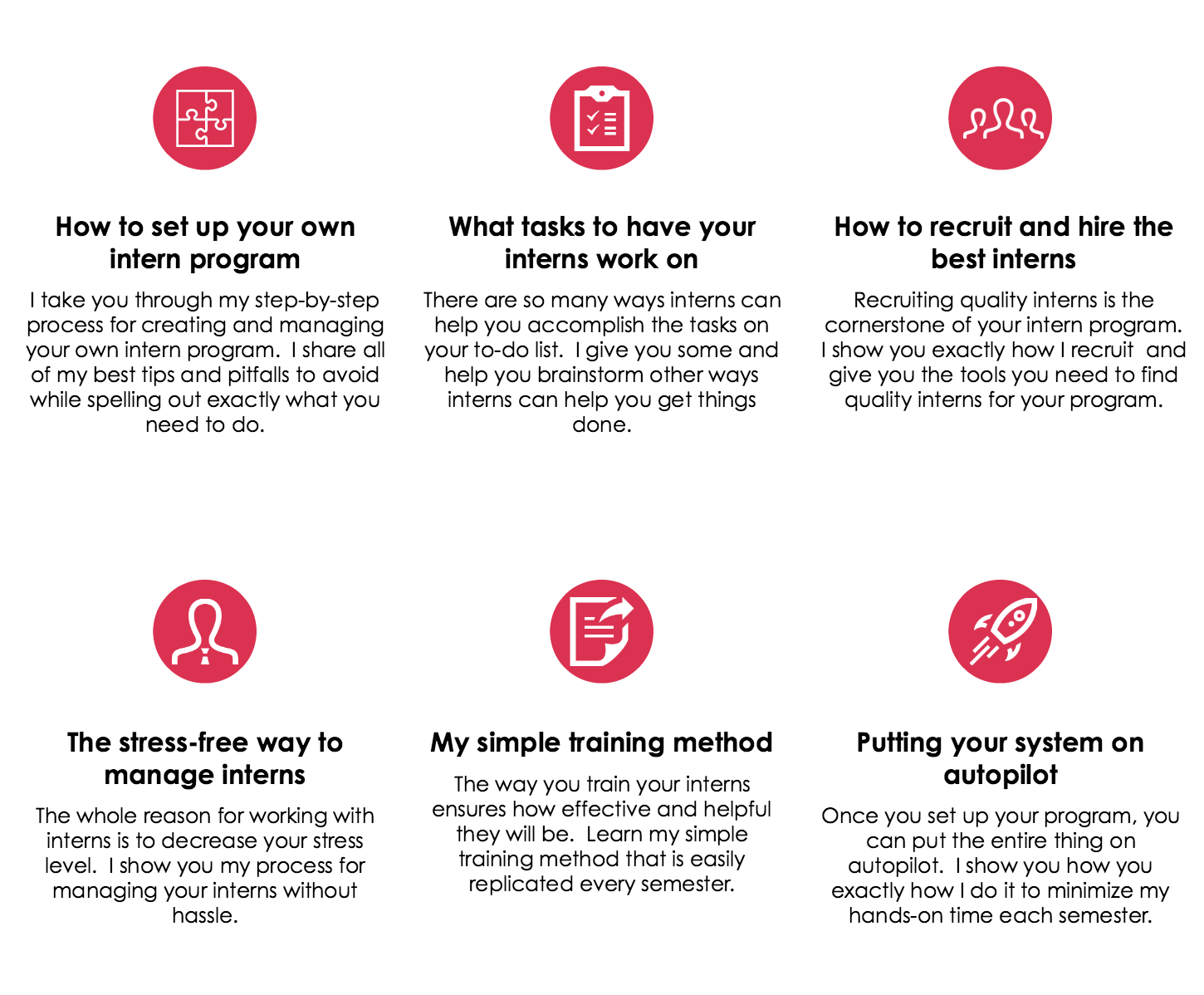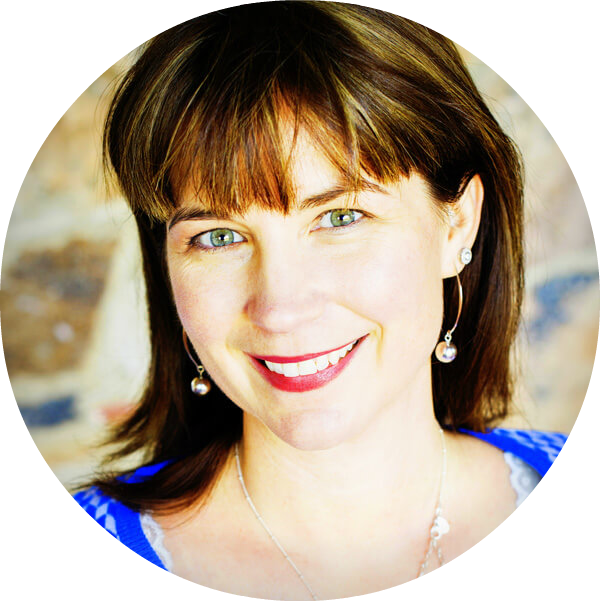 "I can't afford to pay an assistant to help with all of the behind-the-scenes stuff I need to be doing. Using interns would free me up to focus on creating what I love and developing new recipes for my readers."
KARYN | Pint Sized Baker
What's Included in the Course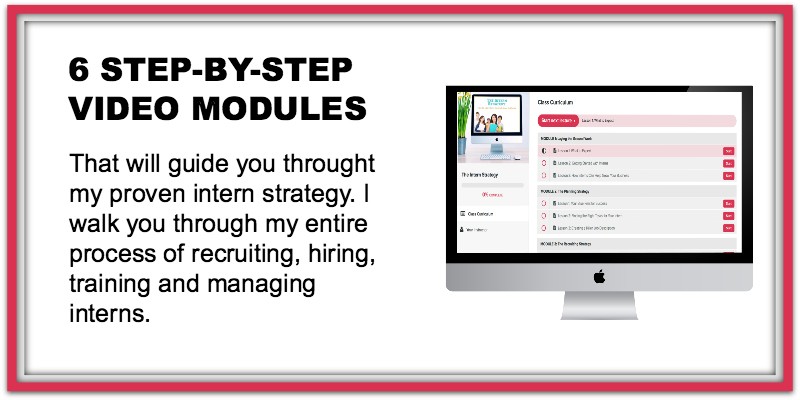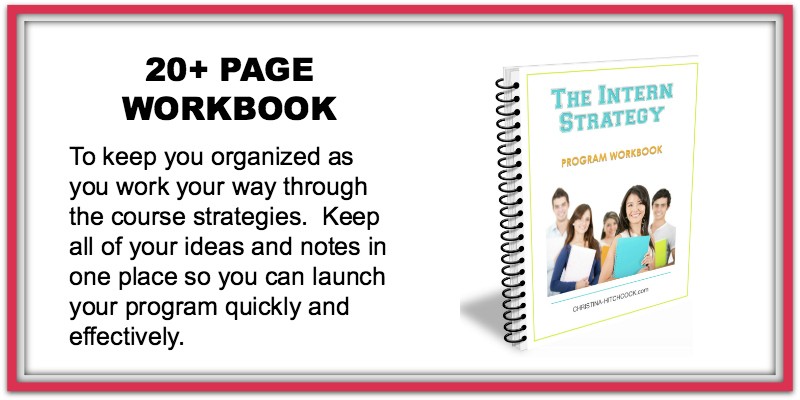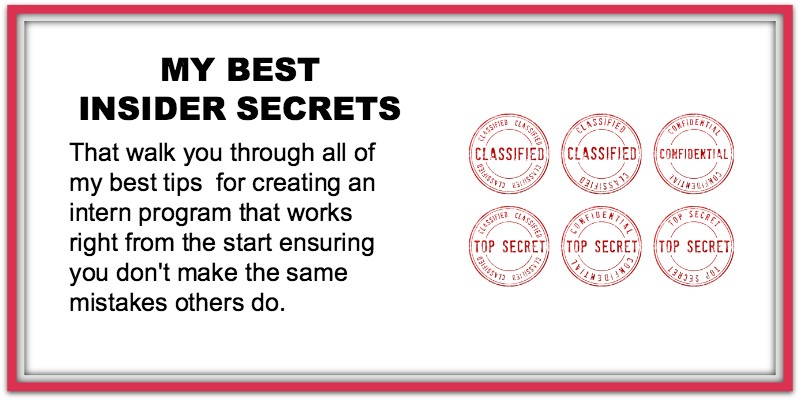 It's everything you need to launch your own successful intern program.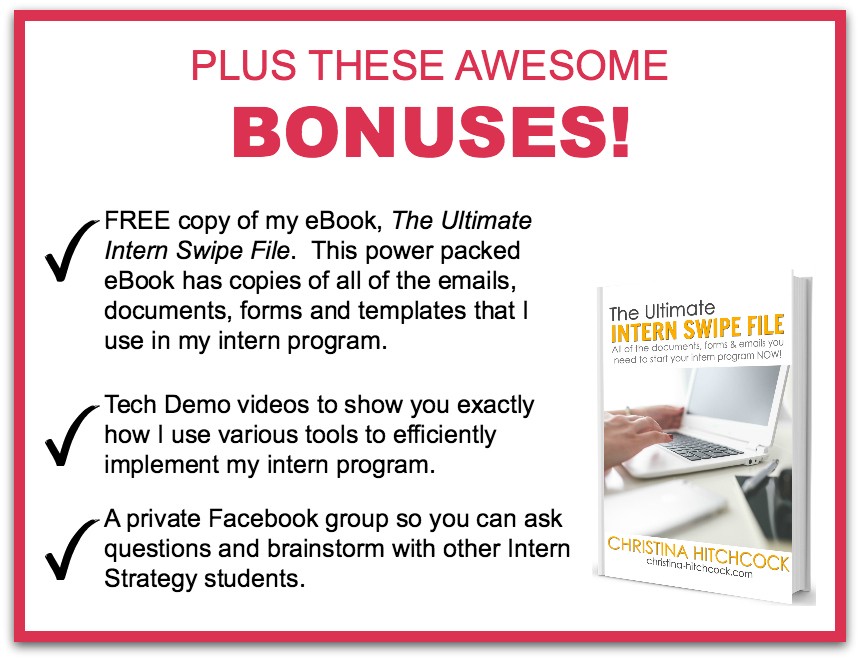 That's a value of over $700 for this course and all of the materials and bonuses.
By using this system, you can save over $20,000 in virtual assistant fees in just one year.
You can't afford NOT to purchase this course!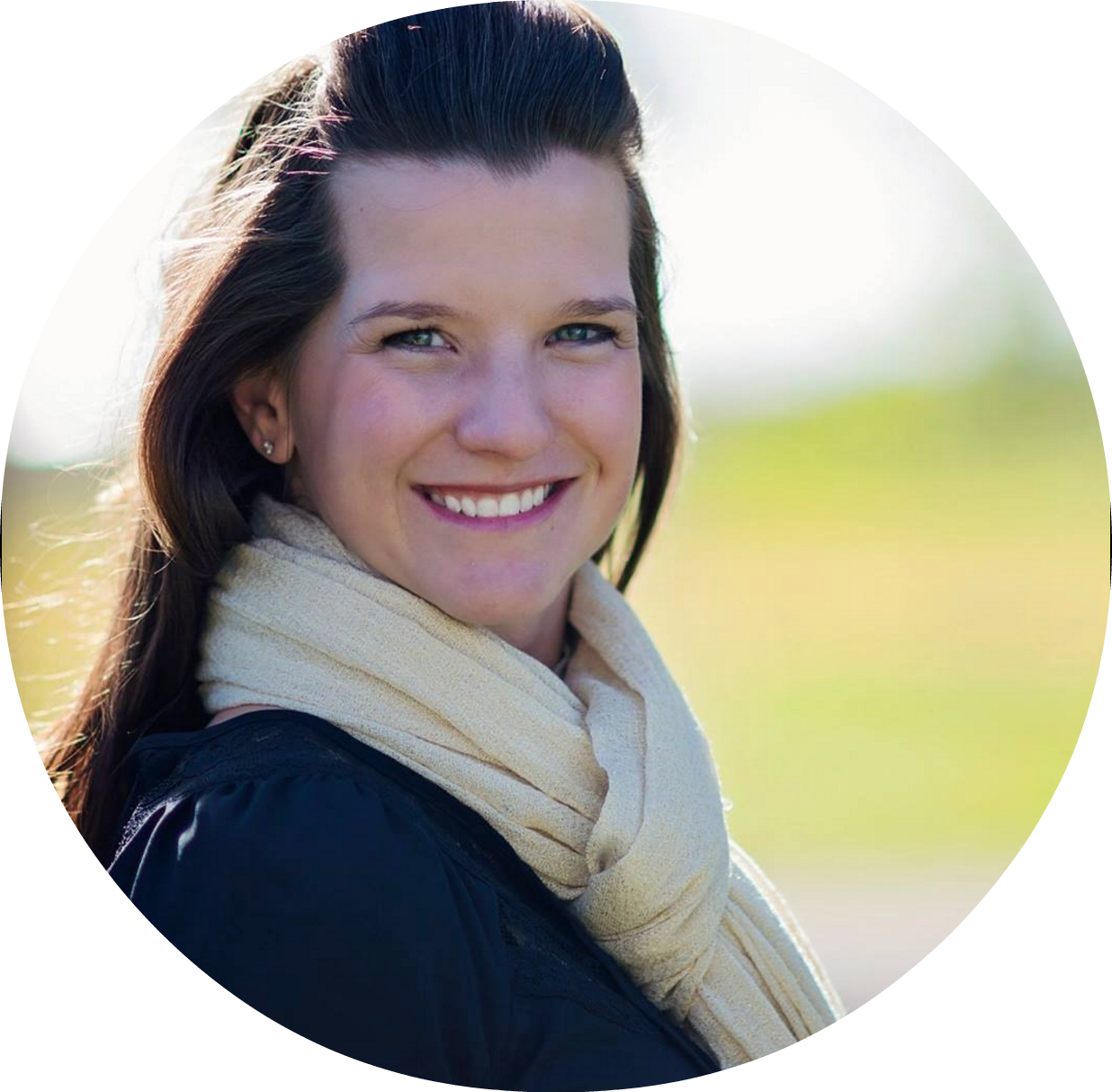 "Christina walked me step-by-step through the process of how to approach universities, what they are looking for, how to interview interns and how to manage them once I found the right candidates. Her insights were invaluable in helping the process work smoothly. I was able to get the help I needed to tackle the projects that had been on my to-do list for ages! "
KIMBER | The Pinning Mama
Frequently Asked Questions
I'm not a big blogger. Can I still use interns?
Of course you can! The whole premise behind internships is providing the student with a real-world learning environment. Whether you're a big blogger or a small one, you have experience you can share with interns.
Do you have to be a full-time blogger to use interns?
No. Part-time bloggers can work with interns too. Again, as long as you can provide an environment where they learn from the experience, you can use interns.
Do I have to pay interns?
There are both paid and unpaid internships. I have only offered un-paid internships when I've worked with students. In most cases, these students are receiving college credit for the experience they gain with my internship.
Do schools charge you for interns?
All of the schools that I have worked with have never charged me for providing internship opportunities to their students. Schools tend to welcome diverse internship opportunities where their students can gain real-world experience.
My blog isn't a real business. Can I still use interns?
Of course you can! Again, the whole premise behind internships is providing the student with a real-world learning environment. It doesn't matter if your business is a major corporation or if you simply claim your income on your personal tax return. You can still use interns.
Do you have to have an EIN to hire interns?
If you are offering unpaid internships you do not need an EIN or tax identification number.
Is this course worth the investment?
YES! Implementing the strategies outlined in this course, I have saved over $20,000 in one year on virtual assistant fees. Remember, in order for your business to grow, you need to invest in it.
When does the course start and finish?
The course starts now and never ends! It is a completely self-paced online course - you decide when you start and when you finish.
How long do I have access to the course?
How does lifetime access sound? After enrolling, you have unlimited access to this course for as long as you like - across any and all devices you own. You also get access to any future updates and upgrades. Pretty awesome, huh!
What if I am unhappy with the course?
We would never want you to be unhappy! If you are unsatisfied with your purchase, contact us in the first 30 days of purchase. This course is effective when you put the work in and implement the outlined strategies. Therefore, to request a refund you must provide proof that you've completed all of the modules and have made a reasonable effort to implement the strategies provided.
I have a question that you didn't answer here.
Course Curriculum
MODULE 1: Laying the Ground Work
Available in days
days after you enroll
MODULE 2: The Planning Strategy
Available in days
days after you enroll
MODULE 3: The Recruiting Strategy
Available in days
days after you enroll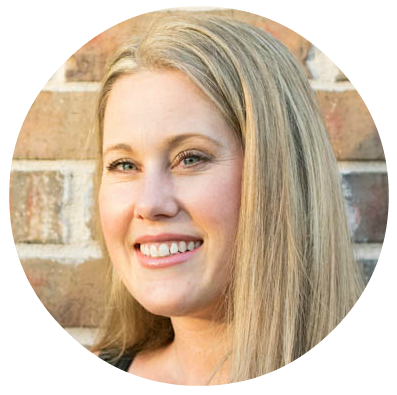 "I've been wanting to set up an intern program for a while now but it's such a daunting task. I've been putting it off. Christina's course gave me a clean path to follow with action items I can do RIGHT NOW to get the ball rolling."
CARRIE | CarrieElle
So, what would it be worth to you and your business if you….
Never had to waste time in the hamster wheel of time sucking tasks?


Could save thousands of dollars every year on virtual assistant fees?


Could avoid the common pitfalls that most businesses experience when working with interns?



Had every step mapped out for you in a clear strategy that's easy to replicate every single semester?
THAT'S WHAT THE INTERN STRATEGY GIVES YOU!
Your Instructor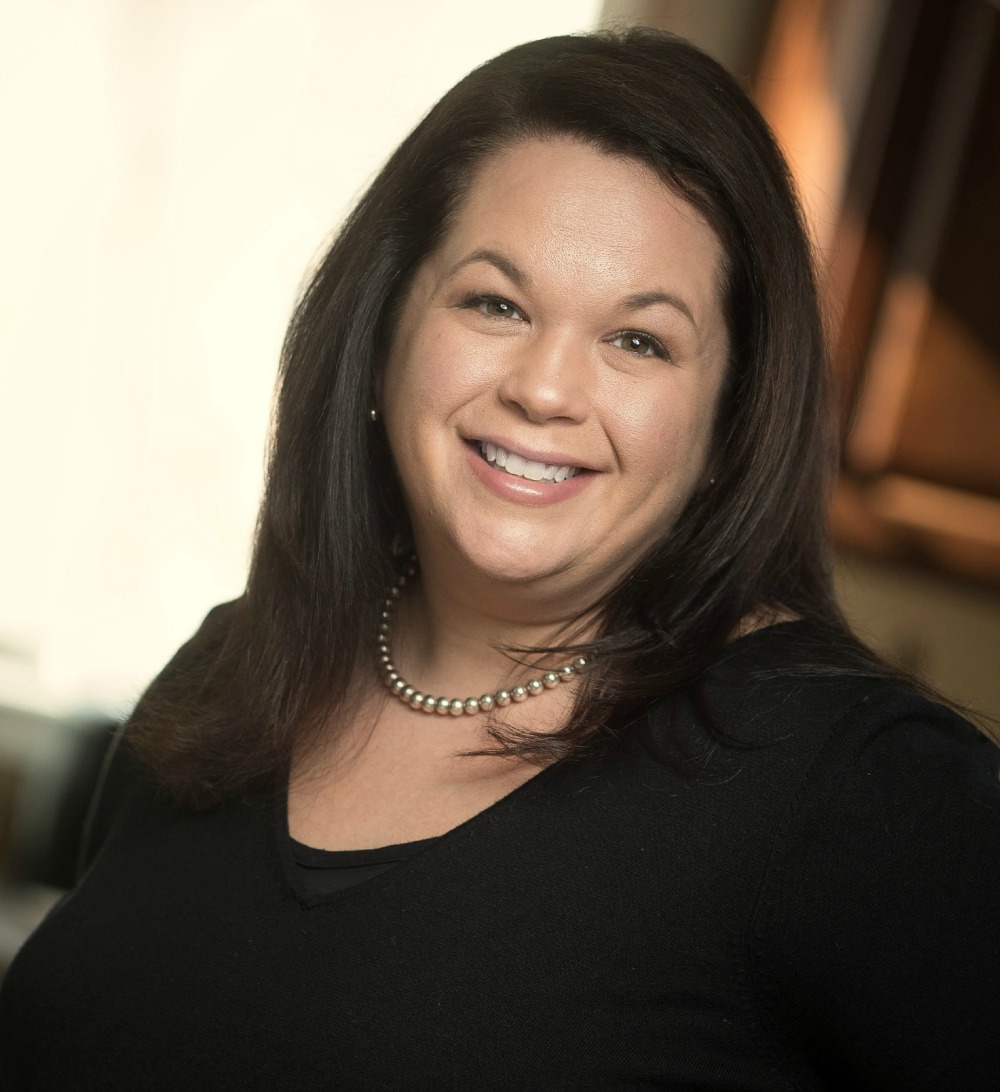 Christina is a former marketing VP turned blogger, savvy social influencer and blog coach. She started her blog, It Is a Keeper, in 2010 as a hobby and eventually grew it to a full-time business. Today, she makes as much money with her blog as she did when she worked full time.
As a self-taught blogger, Christina learned how to do things by trial and error. She loves helping bloggers make smart decisions and take their blogs to the next level. That's why she started Christina-Hitchcock.com.